Hi there, guys and dolls! Well gee, isn't wholesome fun just the ticket sometimes? Don't you believe it. There's always some saucy and scandalous behavior in the midst.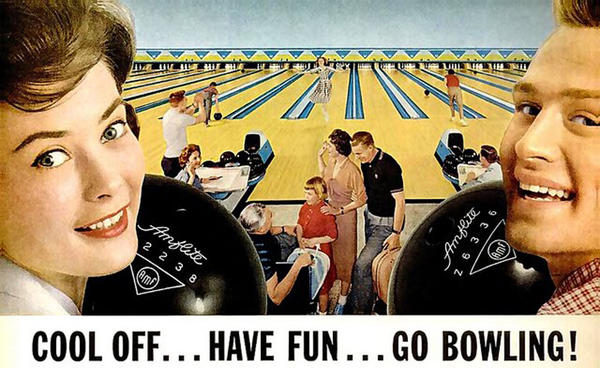 So there I was, minding my own business with nothing much to do on a Saturday night (okay fine, I admit that sometimes that happens, hope you're happy…) when Midge called up and said the whole gang was going bowling and why don't I come along? Wasn't sure who this whole gang was, but sure, I'm game. Not that I was doing anything else anyway.
So I show up at seven, dressed in a little low cut wrap sash blouse, which just would give that little hint of lacy decollete every time I took a turn and some tight little capri slacks that thanks to my new triple action girdle, fit like a glove made of rubber bands (I couldn't breathe, but I looked good). Rented a pair of the warmest, dampest shoes at the counter (doing my best to ignore the ick factor) and joined this so-called group of hoodlums.
Turns out it was her church group, and not just any of the usual, moderate gathering, but of the reverent, severe and teetotalling variety. No drinking, no swearing, no frolicking, no smoking, no misbehaving of any sort. Now that's all fine and good in theory, but um, really? I don't think I've ever gotten through an hour alone (and don't get me started about work or family gatherings) without committing any one or a number of those blessed misdemeanors.
Golly, I was so distracted by trying to be 'good' that all I could do was throw gutterballs. And I've been known to get a 300 a time or two! I had to keep readjusting my bossoms to keep from distracting the congregation (I could hear a couple of the thoroughly decent young men in deep ardent prayer and breaking out in a sweat every time I wiggled as I threw, too – how disconcerting). This was not the crowd for me.
Then I took a look down the alley and saw this nice, firm forearm picking up the pins. Well, that's a healthy strong specimen, at least from what I could see. Time to investigate, I thought. And what's that I hear from behind the "employees only" door? Wild rock n roll? Now I definitely need to check this out.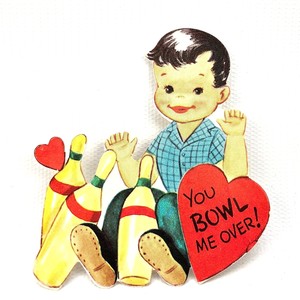 And wouldn't you know – a pinboy (or should I say 'man') working behind the scenes at the bowling alley. And a tall, dark and handsome type. One nip from his flask as he read me beat poetry and I found my crowd.
You could say I was bowled over, but that boy set my pins straight, so to speak….
Thanks for reading and stay tuned for more posts. And don't forget to give my Poppy Cove Mysteries a try if you haven't already.
Toodles, Barbara Jean