Hi there, guys and dolls! Well, look at you – you made it through another week. I'll drink to that (frankly, I'll drink to anything, but that's just me…)! Let's see how yours truly can help another couple of hapless souls improve their upcoming weekend, shall we?
Dear Barbara Jean,
My husband isn't living up to his end of the bargain. Even before little Cathy was a glint in my husband's eye, he made a promise to me that he would take his fair share of turns to get up in the middle of the night to tend to our child's cries. Our little angel is now almost half a year old and he has yet to get up and change, feed or burp her. I haven't had a full night's sleep in so long, and I am getting cranky. At first, I tried gently to remind him that he said he would get up, and then he says he didn't hear a thing in the morning. Now I poke, prod and throw things at him and he still does not get up, feigning sleep. I am sure he is lying. What am I to do?
Sleepy Sue in Seattle
Dear Sue,
Yeah, I'm pretty sure he's telling fibs. Baby cries? They'll pierce eardrums and rattle windows. Here's what you should do. Skip lil Cathy's afternoon nap one day and when your hubby gets home, hand over the cranked up tyke instead of his pipe and slippers. Then go out for happy hour and a movie with a girlfriend or two. By the time you get back, he'll have had a good blast of baby and be sure to tell him unless he gets up when prodded the next time, you will repeat this disappearing act randomly and when he least expects it. Don't worry about your little girl, they're made of tough stuff and can handle this change in routine. It'll build character and a little spunk in your girl (as well as an early lesson in male manipulation – a girl can never learn too young) and some obedience in your husband.
Wishing you an eight hour stretch, Barbara Jean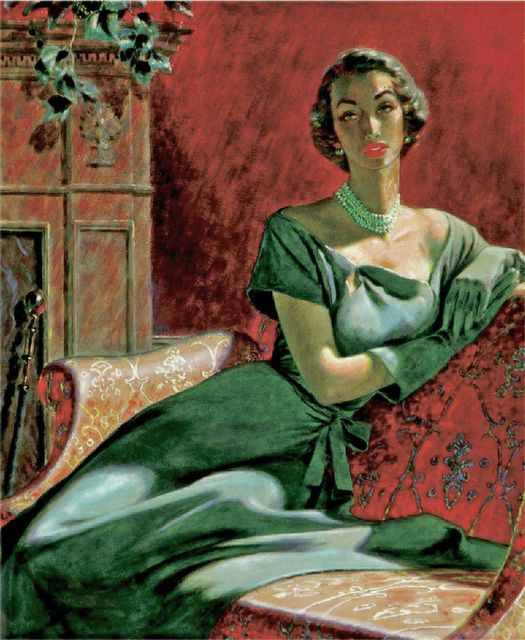 Dear Barbara Jean,
I keep having this annoying man keep crashing my elegant parties. People call him Jackson and he is very unruly and his clothes are always covered in paint spatters. I have never invited him, but he shows up in the later hours, sometimes in groups of friends I have invited, or lately, just on his own. I am busy in my hosting duties and by time I notice, he has polished off all the liquor and hors d'oeuvres and has put at least one woman in a compromising position and sometimes they don't like it. I don't like to cause a scene, but what does one do with men like this?
Pouty Peggy on Park Avenue
Dear Peggy,
What one does with a man like that is buy his paintings, my dear! Trust me, in a few years you won't have to put up with him and his work will be worth a mint. It's all in his technique (just ask the ones who don't mind when he puts them in a compromising position, if you know what I mean). In the meantime, let down your hair, bring in enough snacks and booze, and enjoy your parties, Peggy. Live a little.
Everyone's a critic, Barbara Jean
Keep your letters coming! I love to help or hinder any way I can.
Thanks for reading and stay tuned for more posts. And don't forget to give my Poppy Cove Mysteries a try if you haven't already.
Toodles, Barbara Jean